September 18, 2018 6:00 pm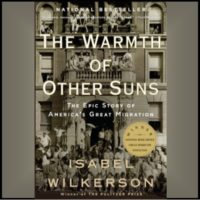 3rd Tuesdays at 6 p.m.
African American Advisory Committee
Book Club Discussion: The Warmth of Other Suns
The African American Advisory Committee (AAAC) invites you to join a new book club featuring African American authors and issues.
The first book of the club is The Warmth of Other Suns by Isabel Wilkerson. Ms. Wilkerson is a winner of the Pulitzer Prize and has written a most compelling narrative nonfiction. Her compelling work chronicles the great untold stories of American history: the decades-long migration of black citizens who fled the South for northern and western cities in search of a better life. From 1915 to 1970, this exodus of almost 6 million people changed the face of America. Join the AAAC and Ahmad Daniels for an engaging discussion of the first 50 pages. The first session of the AAAC Book Club will begin September 18 and continue to meet the third Tuesday of each month at 6 p.m. at Tempe History Museum (809 E Southern Ave). Discussions of the book will be facilitated by Ahmad Daniels, M.Ed., Chairperson of the AAAC Community Chats program. The book club and discussions are free and open to the public.