Support Tempe Historical Society!
Shop for our current specialty items or make a donation.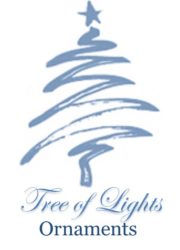 The Larry Campbell Tree of Lights is an annual fundraiser that offers individuals a special way to pay tribute with an ornament to friends and family during the holiday season. Donors, individuals being honored, and the families of those being remembered are sent invitations to attend a reception at the Museum the first Sunday of December.
Tree of Lights Ornament Form [196 KB, PDF]
$10 Donation per honoree
Give the Gift of Coffee, and History!
Would you like to give a unique gift to a friend or treat yourself to something special? Look no further than Tempe Historical Society's unique coffee blends offered in four flavors! In addition to a great flavor, these coffees are housed in burlap bags and tagged with a historical image and information. Coffee can be purchased from Tempe Historical Society at events, or by stopping in the office at Tempe History Museum, 809 E Southern Avenue.  Call (480) 350-5120 or email info@tempehistory.org to arrange to pick some up!  $10 each – supplies are limited!

Mill Avenue Bridge Roast
Hayden House Blend
Petersen House Perk
Tempe Beach Brew
Consider making a donation to Tempe Historical Society
Your donation helps preserve and share the history and heritage of Tempe. Each gift allows the Tempe Historical Society to take a lead role in the preservation of the objects, stories, photographs and memories of the past – both ancient and recent – that makes our community unique. Funds raised are used to engage the public in programs and events such as Lunch Talks and Hayden's Ferry Days; restore pieces of our history such as the Minder Binder Restaurant water wagon and maintain the historic 1892 Petersen House.
Every gift, large and small, matters. Click the "Donate" button to make your contribution.