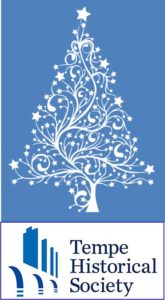 Join members and guests of the Tempe Historical Society for the annual Larry Campbell Tree of Lights Reception. This festive gathering is a chance to view the trees on display which honor loved ones and veterans, listen to live holiday music and enjoy refreshments. The event takes place the first Sunday of December from 2:00 – 4:00 p.m. at the Tempe History Museum.
The fundraiser is named in honor of Larry Campbell, a past president of the Tempe Historical Society, who began this Tempe tradition in 2001. Two trees in the Tempe History Museum Lobby will be decorated with the ornaments:  one for veteran and one for other honorees.  The Veteran's History Project, Friends of Temp Library and Friendship Village are all partners and help support the Tree of Lights activities.
In 2016, the THS board began offering several small trees to the Tempe Community Action Agency for families in need. Attendees to the Tree of Lights reception help decorate the trees before they are given.
If you would like to honor or commemorate a loved one, you may purchase an ornament in their honor or memory. Stop by the museum or print out and send the form with payment to Tempe Historical Society (TOL), 809 E Southern Avenue, Tempe, AZ 85282. Make a donation of $10 for each honoree you wish to designate. If the information is received by the last week of November, the ornament will be displayed on the tree for the celebration the following Sunday. You may take the ornament home after the celebration.
Tree of Lights Fillable Form [196 KB, PDF]
Donate On-line by following this link and selecting the donate button. Please provide a $10 per donation for each ornament requested and provide the name of honoree(s) in the "message to THS" area; also provide your phone number in case of questions. You may also fill out the form linked above and email it with a note indicating your on-line payment. (Hint: When saving the form, use the "save as…" feature).