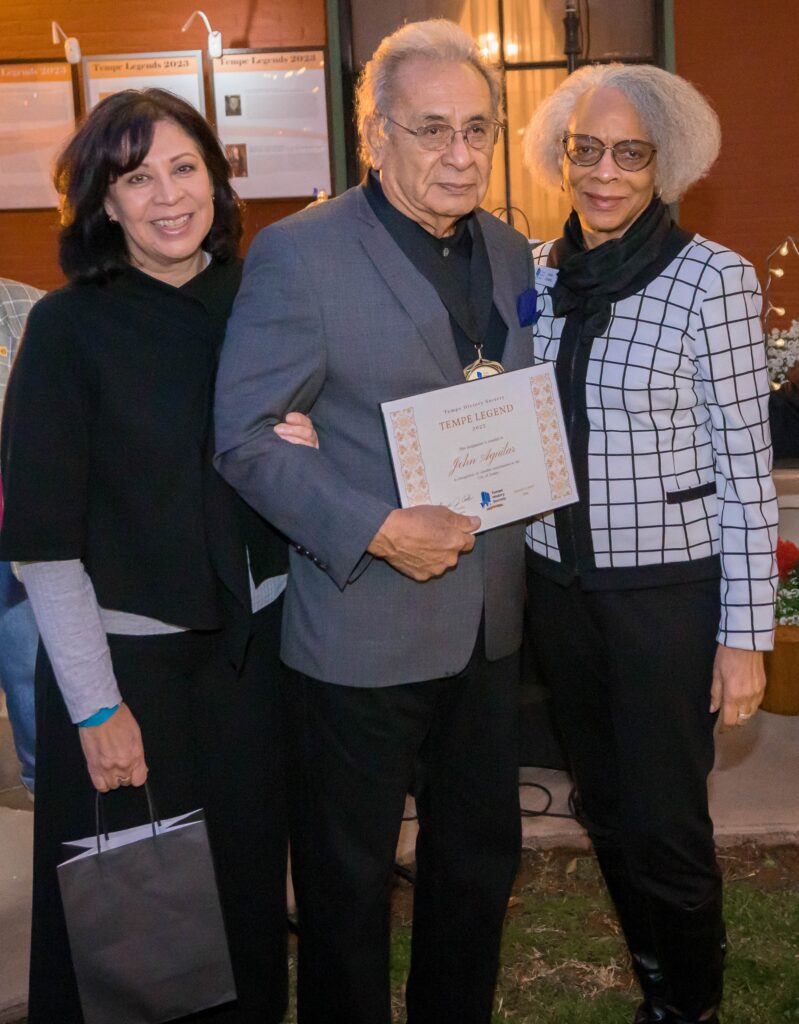 Living Legend: John Aguilar, Humanitarian; City of Tempeand Historic Legend Henrietta Soza Aguilar (1934-2021)
"All I wanted to do was help the poor, the ethnic and racial minorities, the disadvantaged in my town of Tempe. Mexican Americans like me: we knew the struggle, too. I wanted them to be better."—John Aguilar.
John has never been afraid of hard work. He learned the value of education as a young boy. He is a lifelong learner and student of self-improvement, self-reliance, and pride in his achievements. Since the 1960s John has been actively involved in improving the lives of Tempe residents through his work and volunteer service. Through the Tempe Girl's Club, he helped establish social services and educational programs to help girls achieve their goals. In the 70s he worked on a number of initiatives with Tempe City Manager Ken McDonald to improve the educational, economic, and social programs that spurred Tempe's growth and progress. This included a month-long stay in Germany to study model social service programs and bring back that knowledge to improve the programs in the City of Tempe. In the 1980s John, as the Human Resources Coordinator for the Fair Housing Program in Tempe, helped racial and ethnic minority residents to find affordable homes and end discriminatory practices and policies against them. 
Family is also very important to John and both the Soza and Aguilar families are part of Tempe's history. His spouse, Henrietta Soza Aguilar (1934-2021), was the daughter of Henry and Victoria Soza. Her grandfather, Juan Soza, was born in Tuscon in 1851 and came to Tempe with his brother in 1871.  The Aguilar family fled Mexico during the Revolution of 1910 and settled in Tempe. John's father, Juan Aguilar, worked for thirty-seven years for Tempe School District, and Aguilar Elementary is named for him and his wife Concepción.