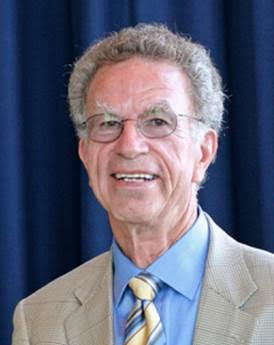 Pen Johnson has devoted his life to hospitality and civic involvement. Most identified with his 35 years in the hotel lodging industry, Pen has been a major force in establishing Tempe's tourism footprint. From 1970 to 2000, he was owner-operator and general manager of the iconic Holiday Inn of Tempe at the southeast corner of Rural Road and Apache Boulevard.  Pen retired in 2006 as the managing director of Nebco Hotel, Inc.
Those roles fit well for his consistent engagement in the community. He served two stints on the board of the Tempe Chamber of Commerce, 1974-79 and 1993-96, which included the Chamber presidency in 1977-78. He serves with Tempe Governors 1990-96, as their president 1992-94. Pen was on the Tempe Convention and Visitors Bureau 1992-96 and 1999-2005.
   With the City of Tempe, he was a Planning and Zoning Commissioner, 1977-79, and a Tempe Transportation commissioner, 1987-2004, and its vice-chair, 2003-04.  Pen was chair of their Marketing and Public Outreach subcommittee, 1997-2003, and its chair, 1997-2003. He was on the Apache Boulevard Project Area committee, 1999-2008; the Tempe/Arizona State University Joint Review Committee, 2004-08; and the Tempe Leadership Board of Directors, 2005-10.
From 2001 to 2009, Pen served on the board of directors of Newtown Community Development Agency/Tempe Community Land Trust. Pen was on the Public Art and Design Review Council at ASU, 2002-05. He has served on the board of the Friends of Tempe Center for the Arts Board.
   Pen has been the recipient of two of Tempe's most coveted awards: the Outstanding Community Leadership Award in 2011; and the Don Carlos Humanitarian Award in 2008.
Among Pen's many roles in the lodging industry was serving on the Western Regional Committee of the International Association of Holiday Inns, 1992-97 and 2001-05. Since 1980 – for 40 years – Pen has been on the board of the Arizona Hotel and Lodging Association and was its president in 1983. They chose him the Arizona Hotelier of the Year in 1993. He was chair of its legislative committee 2003-04. Pen spent 21 years on the board of the Valley Hotel and Resort Association, 1979-2000, and was its president in 1983.
  Born in Minneapolis, Minn., Pen graduated from Little Falls High School in Minnesota and then Michigan State University with a bachelor of science degree in hotel, restaurant, and institutional management. He married Zita on Sept. 6, 1958, and they had four children. They now have four grandchildren and one great-grandchild.
"Family is very important to me," Pen says. "On the day of our wedding, my dad told me that being married to Zita was the best thing I would do in my life. Turns out he was absolutely right. Together, we raised four fantastic children to be loving adults." He further notes, "How lucky I was to be raised by loving parents in a small town in northern Minnesota. They enabled my siblings and me with opportunities at very early ages to learn, grow and work to establish strong ethical values."
Pen said he doesn't take for granted the "many opportunities I have had to experience responsible positions." He was blessed with "caring mentors throughout."
"How fortunate I was to discover a vocation that I enjoyed participating in every day for over 60 years. What better opportunity to be of service to others than the hospitality business."
"I fly the American flag every day to remind me how fortunate I am to have been born in this great country. I am thankful that we live in a nice house in a nice neighborhood in Tempe and that I have never been hungry. Perhaps that is why our favorite philanthropy is the Tempe Community Action Agency that provides food and shelter for those less fortunate."
When Pen was honored in 2008 with the Don Carlos Humanitarian Award, the event booklet noted "Pen has a passion for helping those most vulnerable in our community such as working to help prevent homelessness and championing more affordable housing for fellow residents. … Pen truly stands as a role model for community involvement and is considered by those who know him best as 'one of Tempe's most precious resources.'"
–Lawn Griffiths