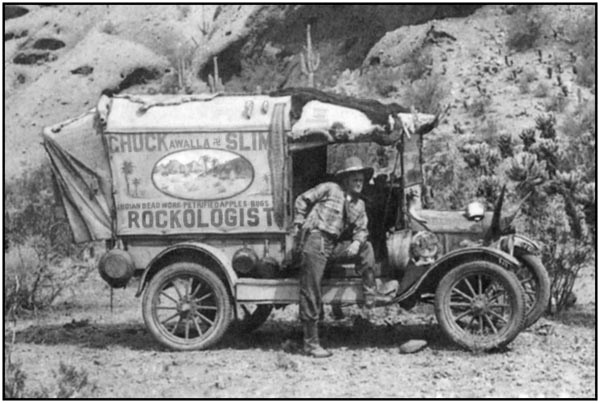 Chuckawalla Slim posed in Papago Park with his colorful truck in the late 1920s. His photographic postcard was popular with tourists.
Courtesy of Tempe History Museum.
Chuckawalla Slim – Rockologist
Writer: Jay Mark
First it was the discovery of the old photograph. Then espying in the picture, "Chuckawalla Slim, Rockologist."
An intriguing snapshot with intriguing details. What was this peculiar a all about?
A bit of research reveals Chuckawalla Slim, was actually Edwin Howard Vose II – a gentleman with an impressive pedigree. Born in Massachusetts in 1902, Edwin descended from an early American family that originally settled in Maine, his grandfather was the U.S. Navy Assistant Surgeon during the Civil War.
After a two-year stint in the Navy, where the scrawny lad was nicknamed "Slim," ended in 1921 he joined his family on a trek from Connecticut to Washington State – a 28-day camping sojourn.
An attempt at a career as a Merchant Marine seaman failed when Edwin discovered he suffered from acute seasickness.
His lifelong obsession with rocks, gems and minerals apparently began with an off chance discovery of a couple of moonstones.
When he realized that he could parlay a passion into a career, Edwin's life path was set.
Details of his life are rather sketchy, but within a few years Voss had settled in Southern California. It is there the shrewd entrepreneur adopted the persona of Chuckawalla Slim – a grizzled rockhound prospector.
The Slim part of the name we already know. Some believe Chuckawalla came from either a southwestern lizard or a couple of Southern California geographical locations.
As his eccentric character grew, so did Slim's stories. In a 1967 interview he boasted, "…how he (about 1914) came "out west" in a covered wagon, hauled by burros. When he was a borax pioneer, they called him 'Slim' – for he weighed but 90 pounds. So, as "Slim" he has been almost exclusively known – ever since."
Initially Chuckawalla Slim travelled the Southwest, including Arizona in the winter, in a mule-drawn wagon, and later a motorized truck.
According to Wendell E. Wilson who researched Voss for the Mineralogical Record, Chuckawalla Slim "…would park at the side of the highway or in places frequented by tourists, such as Papago Park near Phoenix. In those early days he sold Indian bead work, "petrified apples" (a kind of fossil), animal-skin rugs, skulls and rattlesnake skins as well as minerals."
A shameless self-promoter, Slim produced postcards that he sold to tourists. Hence the photographic postcard that accompanies this story. Taken sometime in the 1920's, Chuckawalla is posed on the running board of his festooned truck in Papago Park with saguaros and famous red sandstone in the background.
An astute businessman Slim in the 1930 census declared his trade as "salesman, curios."
Wilson believes Slim "…probably did relatively little field collecting on his own, though he did claim to mine for specimens in the desert periodically. He mostly bought specimens wholesale from other southern California dealers…"
With his 1975 death in California, the crusty "Rockologist" brought to an end an era of colorful desert characters.