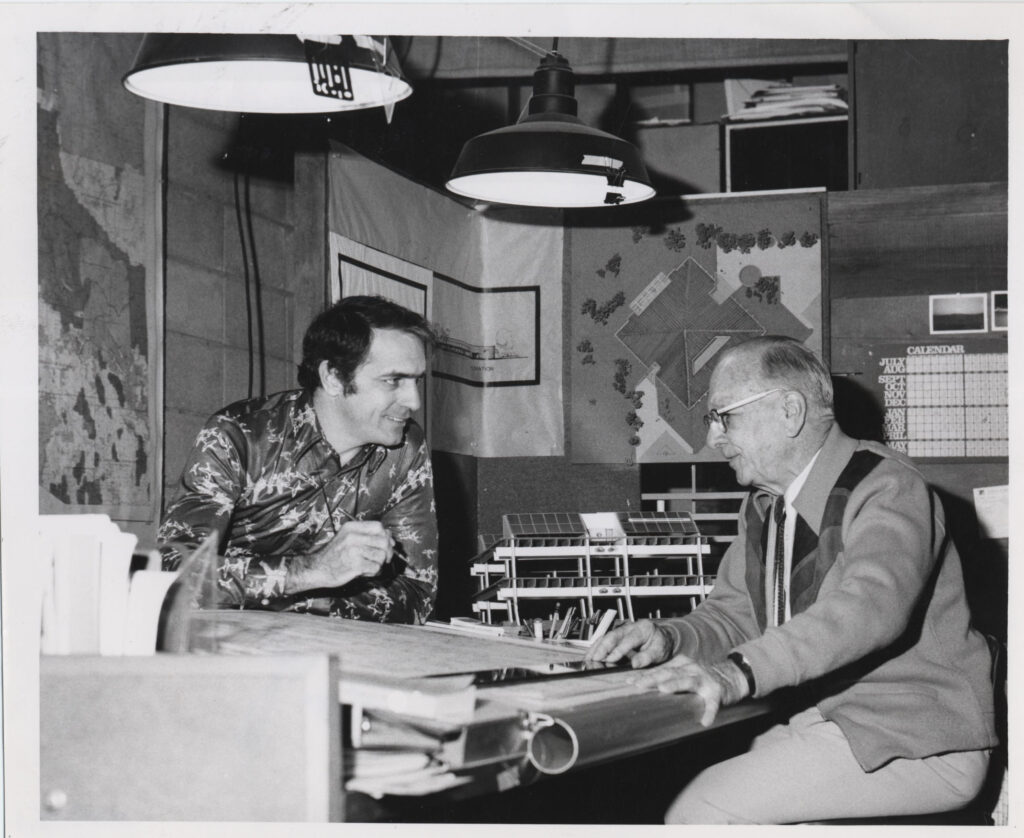 If the question, "Who built Tempe?", were asked the names Kemper and Michael Goodwin would be a worthy answer.
The late father and son architect team was prolific in designing buildings that stand prominently in Tempe, across the state, and even the Southwest.
Tempe City Hall, the iconic "upside-down pyramid," is regarded as Michael's crowning project (1970) – a design, he would say, that he conceived in the shower.
The Goodwins specialized in crafting the design of educational facilities – some 200 public school facilities. Kemper developed one of the most successful architectural firms in the state, eventually employing 40.
During his formal professional years (1931-1975), Kemper was credited with setting the design standard for public school campuses. His son Michael joined the practice in 1967 and especially left his mark in "green" and sustainable building designs, with energy efficiency. His strategies included sloping window glass, earth berms around buildings, hexagonal structures framed as parallelograms, and employing heat sources like light and even body heat. Rooftop parking and modular portable buildings were also features in some of his designs.
The Goodwins' work at Arizona State University includes the Memorial Union, Wilson Hall, the ASU Wexler Math Tower, and Bateman Physical Sciences Center.
The list is long for designs for Tempe Elementary School District, including Evans, Curry, Frank, Nevitt, Bustoz, Rover, Hudson, Arredondo and Getz elementary schools, and Connolly Middle School. Goodwin designs are seen in Marcos de Niza High School (1971), Corona del Sol High School (1976), and an addition to McClintock High school (1976). Kyrene School District projects were Kyrene del Norte Elementary, Kyrene de las Lomas and an addition to Waggoner Elementary School.
Other projects include the Paradise Valley Town Hall, the Mill Avenue Shops in downtown Tempe, U.S. Post Offices in Prescott and Kayenta, the Yavapai County Criminal Justice and Detention Center in Prescott, the Arizona Highway Employees Credit Union in Phoenix, the Scottsdale Medical Pavilion, the Mercury Mine Bridge in Phoenix and the redevelopment of Tower Shopping Center in Phoenix.
Kemper designed the original McClintock High School campus in 1964, with many "finger" classroom buildings. Tempe architect James Logan Abell, FAIA, noted, "The Goodwins were innovators in school design when bond money was limited and school districts were growing rapidly. Unusual design approaches involved building up earth berm walls covered with concrete 'gunite,' with long-span concrete double "T's" to create massive interior volumes. Those open pod classrooms, in many cases, were later improved and modified. James Abell noted that "after World War II, most Phoenix-area schools changed – no more interior hallways, long narrow blocks of classrooms laid out like military barracks, like fingers, with outdoor circulation and no indoor hallways."
Some of the commissioned projects ended up never being built.
Kemper Goodwin was born on April 28, 1906, in Tempe. He was the son of Garfield Goodwin, a Tempe businessman and Tempe mayor (1924-26). Now razed Goodwin Stadium, built-in 1936, had been named for Garfield, who also had been a star athlete at Tempe Normal School (now Arizona State) and was later on that school's governing board.
Kemper left Tempe High School before he graduated in order to go to California to study drafting at Polytechnic High School in Long Beach. He graduated in 1924 and then entered the architectural program at the University of Southern California. Saying he was only interested in the architectural courses there, he returned to Tempe in 1928 without a degree. Kemper sought work with Lescher & Mahoney, one of Phoenix's leading design firms. He earned his Arizona architect's license in 1931.
The Great Depression curbed the company's work, and Kemper lost his job. He took to the road as an itinerant architect. He traveled to towns in New Mexico, Texas, and even the South, doing some form of work for almost 80 firms for low pay. He would settle in El Paso, Texas, joining a firm led by Percy McGhee. In 1934, he married McGhee's daughter, Mickey. The next year, they returned to Arizona, and Kemper was hired anew by Lescher & Mahoney, where he remained for seven years. He helped design several Arizona State Teachers College buildings, including the Moeur Building, the school's only adobe structure, a Work Projects Administration (WPA) construction, completed in 1939.
The college sought to hire Kemper, but he remained with Lescher & Mahoney working on buildings for ASTC. In 1942, Kemper signed on with Del Webb's construction company. His first work was at Williams Field Air Force Base in Mesa. Two years later, Kemper moved to Womack Construction.
Finally, in April 1945, he hung his own shingle as a Tempe architect and opened his practice behind his home at 111 E. 5th Street, an office he liked to call his "Dog House." Then began is the robust practice of building design. Kemper died on Christmas Eve 1997 at the age of 91.
Michael Goodwin was born April 28, 1939, and earned a bachelor's degree in architecture in 1963 from the University of Southern California. He joined his father's firm in 1967. During the early 1970s, Michael served as a Republican legislator for two terms in the Arizona House of Representatives. He is believed to have been the only architect to serve a term in the state House.
In the Arizona general elections in November 1974, Michael was defeated by 8,000 votes for Arizona Secretary of State by Democrat Wesley Bolin, who would become Arizona governor in 1977. Recognized for his "groundbreaking vision and unique designs," Michael was inducted into the American Institute of Architects (AIA) in 1966 and became the youngest person to become a Fellow of the AIA in 1978. In 1975, he was awarded the first Arizona Architects Medal.
His use of solar design at Tempe's Corona del Sol High School was among the first in school construction. He designed a handful of private homes, topped by designing the Elk Run subdivision in Flagstaff known for its "preservation-minded use of natural space."
Some of the structures the Goodwins designed are on the National Register of Historic Places.
Michael was a talented artist and was known for his cowboy art, watercolors, and pastels. He became a juried member of the Pastel Society of America. Michael studied art in Paris and was a member of the Scottsdale Artists School. He was a successful sculptor and a member of the respected 22×30 artist group. Michael became involved with a Scottsdale theater company for adults with disabilities, called Detour Company Theatre, and worked to help them foster their creative talents.
In volunteer work with St. Augustine's Episcopal Church in Tempe, he had a leadership role in bringing the Cursillo Movement to the area.
Shortly before Kemper's retirement, the firm became Ahern, MacVitte, Hofman, Goodwin, Architects. Michael left the partnership in 1989 and devoted his energies to his art loves at his home next to Camelback Mountain.
After Michael died of pulmonary fibrosis on May 4, 2011, at the age of 72, Arizona New Times columnist Robert Pela lauded him for his "green" architecture design and his cowboy art. "He was an old-school architect, in that he brought his own well-rounded life to each of his designs. One can tell, looking at Goodwin's municipal and education buildings, that the man was well-traveled – that he was a visual artist whose structures weren't simply attractive and functional, but also a celebration of the land that surrounded them."
Pela called Michael Goodwin a "responsible architect who didn't put his own ego ahead of the building's intended function."
The Goodwin name can be found today on the bronze dedication plaques at the entrances of dozen of buildings. The father and son are credited with helping other architects get their starts.
Now just more than a half-century since Tempe City Hall got tipped on its head, those who gaze on it may not appreciate the unorthodox, three-story structure. They may not know that the top floor is 26 feet wider than the first floor, not to mention shading below-ground offices – all brilliantly saving energy and evincing majesty in what glass, steel, and imagination can create.
— Lawn Griffiths