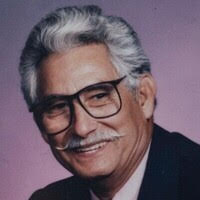 Luis G. Burgos passed away in hospice care in Tempe, Arizona, the city where he was born, after a short illness on April 5, 2021. He was 93. He was born into a very loving and close family. His parents Juliana Gonzales Burgos and Francisco Burgos raised him and his siblings in the historical San Pablo area of Tempe, which is now part of Arizona State University. Luis was very proud of his Mexican American heritage going back to before Arizona was a state. He attended Tempe schools, as did his siblings, Ramona, Ernesto, Helen, Mary, Francisco, Rachel, Albert, and Sylvia. He learned early on from his parents about love, faith, respect, and integrity along with the value of hard work and determination, and the intrinsic value of community. He also learned at a young age how to accept and embrace change which served him well in his life.
He joined the U.S. Armed Services in 1946 and served three terms. From 1952 -1955 he was part of the 11th Air Borne Division as a paratrooper. At one point he was injured when his chute did not open and he spent a year in a military hospital. While stationed at Ft. Devens he met and married Emily Faria Brodeur. He enjoyed many wonderful years living in Massachusetts with Emily raising their beloved sons, Lionel Brodeur, Russell Brodeur, William Brodeur, and Luis M. Burgos, and living close to the extended family that he so loved. He lived in Massachusetts until her death in December of 1980. He was employed during those years by the Raytheon Corporation as a Materials Inspector in the Aeronautics Division.
He moved back to his hometown of Tempe, Arizona in 1981 and married an old childhood friend from his original neighborhood, Helen Bracamonte Smith. During their time together they loved exploring Arizona anew, traveling all over the United States, and living on the Baja Mexico coast for a time. She passed away after a long illness in 2014. He was devoted to his children and family, and loved family get-togethers, parties, including the Tempe Tardeadas, music, and history…and he was always up for a spontaneous outing, especially if it involved food. He was an avid lover of history and truth and read a book or more a week before his recent illness (which his granddaughter lovingly sent him regularly) and watched historical movies and documentaries with a passion. He was also very interested in the history of Tempe and Arizona as a whole, and its Mexican and Native American roots. He delighted in pointing out historical references to Tempe and surrounding areas and was proud that as a boy he worked hard at many kinds of jobs to help his family, including picking cotton.
He is survived by his sons Russell Brodeur (Clara) and Luis M. Burgos (Barbara), siblings, Rachel Arroyo and Albert Burgos, much-loved grandchildren, great-grandchildren, and a great, great-grandchild, and cousins, nieces, and nephews in New England and the Southwest.
The family is very saddened that a funeral is not possible at this time. In honor of his love for his hometown and history donations can be made in his name to the Tempe Historical Society, 809 E. Southern Avenue, Tempe, Arizona 85282 or online at https://tempehistory.org/shop-donate/
Credit to the Tempe Mortuary [https://www.tempemortuary.com/obituary/luis-burgos]