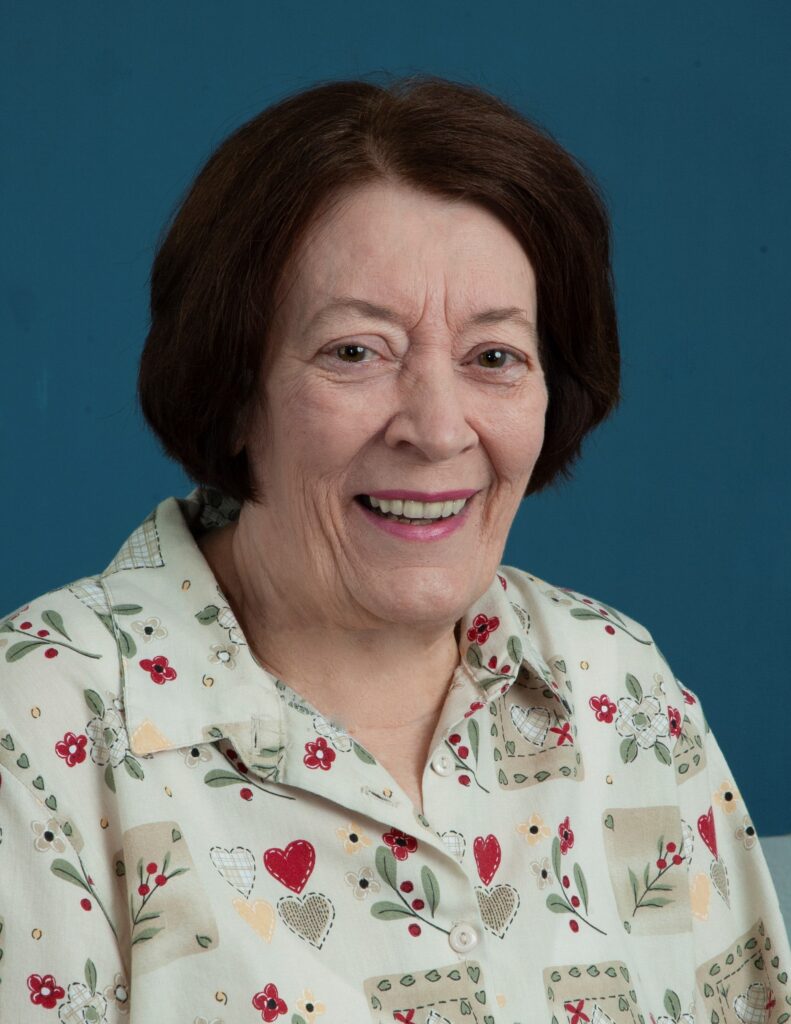 Peggy Bryant left her mark in the ink on newsprint in the pages of the Tempe Daily News. Her journalism tracked the events and rhythm of the Tempe community for 30 years. This prolific journalist left an immense body of work – features, news items and her weekly Ferry Tales columns that retraced the city's history. As editor, Peggy was steadfast in accommodating countless visitors to the newspaper office in quest of coverage. She was the gentle gatekeeper who regularly created compelling articles from phone calls, press releases or desk-side interviews
Peggy came onto the scene when female journalists, eyeing editorships, largely were only offered mere "women and society page" editor jobs, but she pressed ahead and would serve as the editor of the TDN. She earned a degree in journalism in 1952 from Arizona State College where she was editor of the State Press, the campus newspaper. She first wrote for the Centralia (Washington) Daily, moved on to the Eloy (Arizona) Enterprise, then the Mesa Tribune for two months. Peggy found out about an opening for an editor at the Chandler Arizonan, which had never had a female editor. The publisher gave her the job. In 1958, she took her accrued experience to a job at the Tempe Daily News, albeit initially helping Irma Connolly in the side office in their stationery business. When publisher Francis Connolly and others were out of the office, Peggy looked after things and got to write news as needed. Her first article came from a press release delivered by Margaret Kajikawa, wife of Arizona State baseball coach Bill Kajikawa to promote the local American Red Cross campaign.
Tens of thousands of articles that followed gave voice to so many persons, groups and causes. Her work helped build real community.
Born in 1931 in Amarillo, Texas, Peggy and her siblings were children of traveling entertainers who regularly put them into their acts. They moved about the country, until her parents settled down and her father became a music teacher and band director in Fort Grant, Arizona. Peggy graduated class salutatorian from Safford High School. She spent a year at a Texas college, then enrolled at Arizona State.
Peggy, who was married to the late Phoenix Gazette sportswriter Skip Bryant, served involuntary and service roles with many organizations. Along the way, she was chosen Tempe Citizen of the Year in 1974. Civic and service organizations joined together for the city-proclaimed "Peggy Bryant Day" on September 18, 1969. The highest honor came in 1988 when she was the recipient of the 5th annual Don Carlos Humanitarian Award, which is regarded as the most coveted award presented in the city and is conferred by the Tempe Community Council. She was one of the first two inductees in the Tempe Elementary School District Hall of Fame in 1993. In recent years, Peggy was newsletter editor for the Kiwanis Club of Tempe Nuevo, as well as a writer for the Tempe History Society newsletter on whose board she served for many years. As a Kiwanian, she was honored as a George F. Hixson Fellow, named for the founder of Kiwanis International.
After retiring from the newspaper, Peggy served as a community relations specialist with Tempe Elementary School District. In 1990, she produced half of the content of a 187-page book, "Tempe – Arizona Crossroads," a history that showcased many businesses of the city called "Partners in Progress." Her civic work included serving on the boards of Tempe Center for the Handicapped (now Centers for Habilitation), Tempe St. Luke's Hospital and Tempe United Way. She was chair of the Tempe Chamber of Commerce Leadership program and was active in the ASU Alumni Association, the ASU Centennial Capital Campaign, Boy Scouts of America, the local chapter of Business and Professional Women (BPW), the East Valley Coordinating Community Council, the Tempe Escalante Center, Girl Scouts and Zonta women's service group.
In 1985, Peggy was named a "Tempe Woman of Distinction" in connection with Tempe being chosen an All-America City. Peggy earned the Boy Scout Award for "excellence above and beyond, and the Tempe Elementary School District's "Service to Education Award." The Future Farmers of America made her an honorary member. Peggy served as a judge for such pageants as ASU Homecoming Queen and Junior Miss. The Arizona Newspaper Association presented her with many awards, including first-place for editorial pages. Peggy has been active in Tempe's Old Settlers Association. And, a School Bell Award was given to her by the Arizona Education Association.
In 2020, the Sharlot Hall Museum in Prescott chose Peggy as recipient of its annual Sharlot Hall Award, which goes to a living Arizona woman in recognition of her valuable contributions to the understanding and awareness of Arizona and its history.
Peggy is the mother of two children, Tim Bryant and Holly Bryant-Harshner.
–Lawn Griffiths
Photos courtesy of Vic Linoff