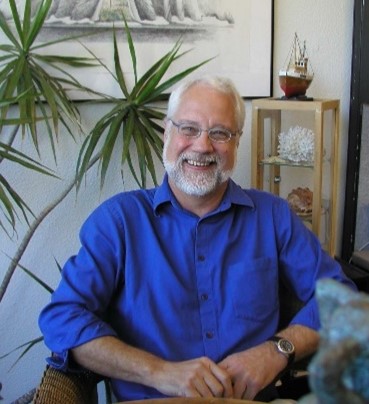 David Saar is forever identified as the founding artistic director of Childsplay, a beloved theater company launched in 1977 in Tempe that has flooded the imaginations, minds, and memories of people of all ages.
At last count, Childsplay has performed for more than 3.7 million children and adults throughout the Southwest. He has directed and taught actors for Childsplay from the beginning.
  In addition, David has overseen and directed many new plays in development, including "The Yellow Boat," "Hush: An Interview with America" and "Tomas and the Library Lady." Childsplay first earned national recognition in 1981 as the recipient of the National Children's Theatre Association's Zeta Phi Eta Award,
  The director and playwright were trained in speech and drama from Valparaiso University and earned a second bachelor of science degree in English and theatre education from the University of Minnesota, then further earning a master of arts degree in child drama from Arizona State University.
     Before Childsplay, David was a drama curriculum specialist for the Mesa Unified School District.  For nine years, he served on the roster of the Artists in Education program and has been an adjunct faculty member for the Arizona State University Department of Theatre.
David was the playwright of "The Yellow Boat," which premiered at Childsplay in 1993. Published by Anchorage Press, the play received the Distinguished Play Award in 1998 from the American Association of Theatre and Education.
   Some of David's other honors include the 2010 Medallion Award from the Children's Theatre Foundation of America for "The Yellow Boat"; recognition in 2009 for "outstanding contributions to theatre in Arizona" by the National Society of Arts and Letters; the 2007 Thomas DeGaetani Award from the United States Institute for Theatre Technology; and the 2002 ASU Herberger College of Fine Arts Alumni Recognition of Notable Achievement Award.
In addition, David earned the 1992 Phoenix Futures Forum 'Dream Weavers' Vision Award; the 1991 Distinguished Achievement Award from the ASU College of Fine Arts; and the 1989 Arizona Governor's Arts Award.
David was a board member of the U.S. branch of the International Children's Theater Association and is active in the American Association for Theater and Education. He has been a site reporter and panelist for the Theatre Program of the National Endowment for the Arts.
   In 1995, Childsplay received the Sarah Spencer Award from the American Association for "sustained and exceptional achievement in the field of theatre for young audiences."  Childsplay was a finalist for the 1991 National Medal of Arts Award, presented by the White House.  In 1988, Childsplay was awarded the Senator's Cultural Award by the East Valley Cultural Alliance.  The American Association of Theatre for Youth gave a Special Recognition Citation in 1986 for "continued effectiveness and excellence in the field of professional children's theatre."
   It has commonly been saying, "David Saar, founder of the acclaimed Childsplay troupe, is one of the most creative and brilliant playwright-directors to ever work in Phoenix theater."
–Lawn Griffiths