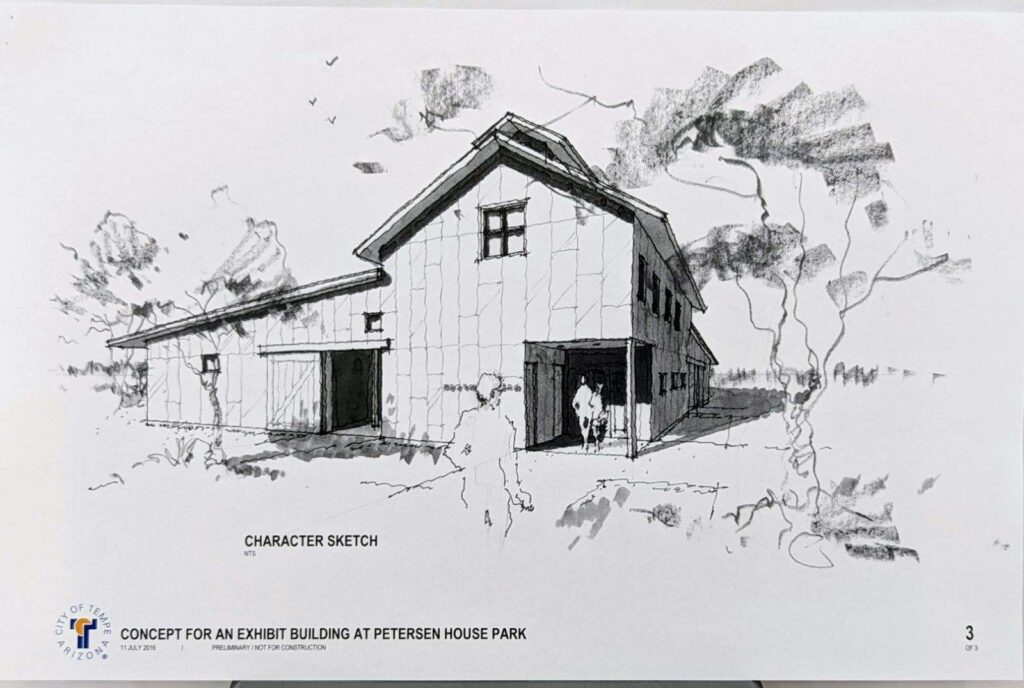 After a long period of time, which resembles a chapter from Rumpelstiltskin, the Tempe History Society Board of Directors has decided to revive a project, which has laid dormant for many years. With the assistance of historic preservation expert and architect, Mark Vinson, and the participation of stakeholders from the City of Tempe, THS has initiated the preliminary steps to design a structure within Petersen Park to support the educational and functional needs of the historic Petersen House.
The location for the building will be in the park–behind the house(north) and to the left (west) of the present kid's play area. The purpose of the structure is to provide amenities to the house and park, such as exhibit space to display agricultural equipment and tools, which could have been used on the Petersen's farm. (Visitors to the present site learn that the Niels and Susanna Petersen farm consisted of over 2,000 acres, much larger than the remaining two acres seen today). In addition, there will be space for community meetings, office and storage space, and restroom facilities, which are highly needed–as anyone who has visited Petersen House can attest.
The ability to relocate several of the large and cumbersome farm pieces from the Tempe History Museum's storage areas will have the added benefit of freeing up much-needed space and will allow the Museum to utilize this area for needs, such as expanding the exhibit and education space.
Recently, THS conducted an open public meeting to gather information from neighbors, residents, public officials, and other stakeholders in order to gauge interest in the project and determine some of the details that should be a part of the building. With the information garnered, architect, Mark Vinson, will put together a preliminary design to be presented for further review and input. (Provided above is an optional concept drawing of the proposed Petersen House outbuilding). Our next meeting should take place sometime in early fall, and you will certainly be invited!
While the project is still in its infant stages, no cost analysis has been presented or formulated at this point. We do not anticipate receiving this data until much later in the process. However, we are working toward a completion date within the next five years. In the meantime, we will continue moving forward, seeking community input, as well as financial support to achieve this goal.
If you'd like to attend our next meeting, please keep an eye out for the notice in our monthly newsletter. Additionally, if you have comments or would like to participate in the process, please send your contact information or inquiries to: info@tempehistory.org.