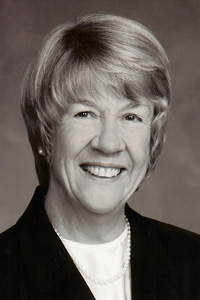 Zita Johnson was being honored in 2001 for Tempe's prestigious Don Carlos Humanitarian Award, it was noted that "Zita has been a committed advocate for children and has enriched our community by promoting tolerance and cultural diversity." Her prints can be found on anything to do with public education, community dialogue, and social services in Tempe.
   Her lists of service and leadership in Tempe are exhaustive.  She may be best known for her elective office on the Tempe Union School District governing board from 2002 to 2012 for which she was president three times: 2004, 2007, and 2011, with vice presidencies, preceding those terms. Professionally, Zita served as the coordinator of the Child Study Laboratory as part of the psychology department at Arizona State University from 1983 to 2001. Prior to that, Zita served as the assistant director and headteacher of the lab.
Born in Fort Snelling, Minnesota, Zita grew up in Brainerd, Minnesota, and graduated from Brainerd High School.
She holds a bachelor's degree in education from the University of Minnesota and a master's degree in education administration from Nova University.
Her community service in Tempe spans five decades. She started out in 1970 as a volunteer for Boys Scouts and Girl Scouts, along with the PTA. She then stepped in her work at the Child Study Lab from 1983 to 2001. For four years, she was a volunteer for East Valley Hospice. Since 1985, Zita has been a member and volunteer for Tempe Sister Cities, including serving on a committee to choose high school juniors for their summer youth exchanges. During 1987-89, she was on the board of the Children's Activity Museum of Metropolitan Phoenix. Since 1989, Zita has been active in the University Park Neighborhood Association. In 1994-96, she was president of the board of Tempe Community Council on which she served 1989-1997. From 1991 to 1996, Zita was a board member of Tempe Centers for Habilitation. She was active on the childcare advisory committee of the Family Emergency Service Center and the principal's advisory committee for Rover Elementary School.
Since 1992, Zita has been a member of the Adolescent Pregnancy and Parenting Program advisory committee for the high school district. For the Tempe Elementary School District, she served on a human development and sexuality education advisory committee.
    For eight years (1996-2004), Zita was a member of the City of Tempe's Human Relations Commission, serving as the chair for 1997-99. She served on the Tempe Community Action Agency Board 1997-2009 and held the chairmanship as well.  Also during the 1990s, Zita served on the President's Commission on the Status of Women at ASU, chaired a Developing Child Conference at ASU, served on the school district's Discrimination Policy Review Committee, and the City of Tempe's Martin Luther King Celebration Committee. She was chair of the Tempe Talks, a Diversity Dialogue program, and participated in the Mayor's Youth Town Hall.
With the coming of the millennium, Zita became a committee member and delegate for Tempe's successful competition to be named an All-America City for a second time. She served on the Tempe Homeless Task Force, 2000-01, which developed a strategic plan to address homelessness.
  Zita served on the First Things First Regional Partnership Council, on the Dos Lenguas/Two Tongues Project Advisory Committee at ASU, and served six years on the board of Assistance for Independent Living.  In 2002, she was named to the Intergroup Relations Center Advisory Committee at ASU, was on the Tempe Community Council's Agency Review Committee, and the Tumbleweed Homeless Youth Center advisory committee.
In recent years, Zita has spent six years on the Tempe Advisory Board, two years on the Tempe Communities for Kids advisory committee, and served seven years on the KAET-Channel 8 Ready to Learn advisory committee.  She devoted five years to the Pre-K Committee of the National School Board Association and the same time on the Federal Relations Network for that association.  She currently is a member of the City of Tempe College Connect Committee and the Tempe Dollars for Scholars Board.
A member of Class III of Tempe Leadership (1987-88), Zita was chosen for the Outstanding Community Leadership Award from Tempe Leadership in 1997. The ASU Alumni Association gave her the Staff Achievement Award in 1999 for outstanding service to the university.
The Assistance League of the East Valley presented her with the "Women who Make a Difference" Award in 2003. The Tempe Human Relations Commission chose her for a Diversity Award in 2009. She earned the Barbara R. Norton Service Award in 2013.
Zita, who has been married for 62 years to retired hotelier Pen Johnson. They raised four children.
Each year, she presents two scholarships in her name. A psychology student at ASU is awarded the Zita M. Johnson Child Study Scholarship, while a graduating teen parent, completing the Tempe Adolescent Pregnancy Program (TAPP) in the Tempe Union High School District, receives the Zita M. Johnson Beat the Odds Scholarship.
–Lawn Griffiths