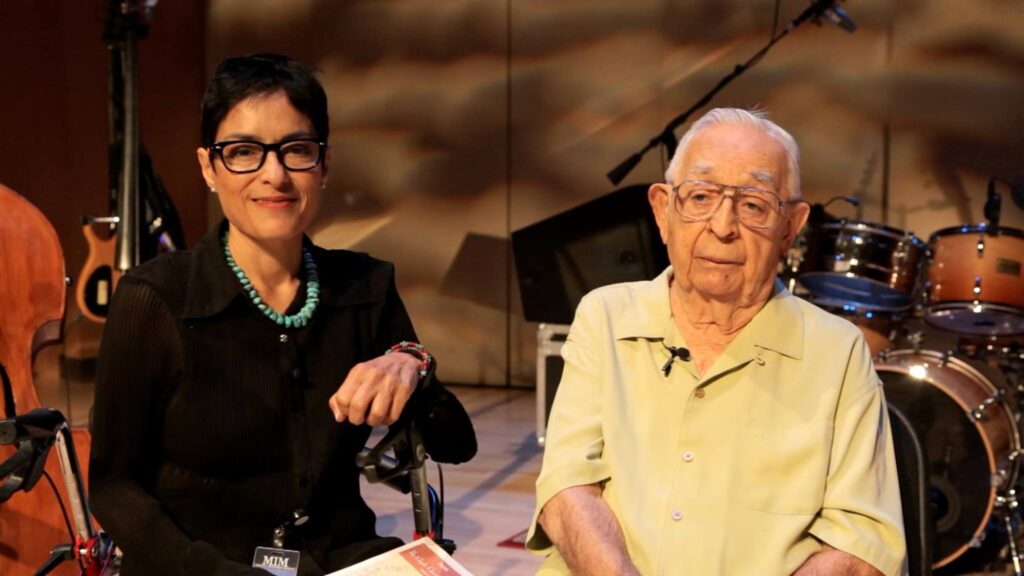 Seven years ago today, December 12, 2014, I posted this narrative on my Timeline–on Facebook. I share it with you because you share respect and love of Tempe, its people, its history, especially, and because it's a season of recollections and remembrances of loved ones and friends still with us, or now deceased.
I wrote this about my friend, Paige Martinez, the award-winning documentation, producer, writer, director, and legendary Emmy-Nominated filmmaker from Tempe, Arizona. Perhaps you knew Paige or saw her PBS documentaries about Mexican Americans for the American Experience series; on the Hopi Indians on KAET/Channel 8; went to the MIM (Musical Instrument Museum) over on Mayo Boulevard in Phoenix in 2013 to see her recent short documentary on the life and extraordinary music of Rafael Amado "Chapito" Chavarria, Tempe's renown Mexicano bandleader, musician, composer, and arranger, who celebrated his 100th birthday with Paige and their friends and family at the MIM.
By 1923, and at the tender age of nine, "Chapito" began playing the guitar and violin over at La Casa Vieja in his father's Mexican orchestra, entertaining large crowds of the Valley's elite and patrons of the arts, and most likely university faculty and staff and students too. Chapito formed his own orchestra, and for many years, he entertained generations of Arizonans with his cumbias, mambos, rumbas, paso dobles, merengues, rancheras at the famous Calderon Ballroom or the Riverside Ballroom or the Cinderella Ballroom, or at the Plantation Ballroom in central Phoenix, places that are long gone now. Paige is gone, too. She died in Las Vegas, New Mexico on November 24th 2014 from health-related complications linked to Valley Fever. She was only 52 years of age. Paige was a graduate student completing her Master's Degree in the Department of Media Arts and Technology at New Mexico Highlands University in Las Vegas.
She bears a historic and cultural link to Tempe and to Arizona State University, and to you—–the collective "you". —-That link is La Casa Vieja, the 1871 adobe home of the Charles Trumbull Hayden family. The Haydens were strong promoters of education and were influential in encouraging the Arizona Territorial Legislature to choose Tempe as the site of the Territorial Normal School in 1885, now known as Arizona State University—your university. The Chavarrias were good friends of the descendants of the Tiburcio and Manuela Sánchez Sotelo and María Sotelo Miller families of Tempe, who, in 1885, helped their friends and neighbors raise and/or donate $500 in exchange for land on which the Territorial School would be built. Years later, Chapito's brother, Pablo Chavarria, married Paige's great aunt. And Paige grew up learning more about the history of the Chavarria family and about their lives in early Tempe. At a young age, Paige became interested in oral history, anthropology, film making, and she liked reading the history of Mexicanos in the Southwest. She graduated from Tempe High School in 1980 and went off to attend New York University's Tisch School of the Arts, where she earned a Bachelor of Fine Arts in Filmmaking in 1986. Her first job was as a Production Assistant for the television series "Fame", and in 1987, her friends encouraged her to broaden her filmmaking experience by working as an office assistant for the American Films Company in New York. The production company was ready to raise funds to produce Oliver Stone's new movie, "Wall Street", starring Michael Douglas.
From 1986-87, Paige honed her craft, became more involved in film production, with film companies, learned how to write stories for films, and learned about photography and camera work and went where the jobs took her over the years: to Los Angeles, Albuquerque, Austin, Mexico, London, Santa Fe, Phoenix. But Paige hit a crossroad that challenged her skills as a filmmaker even more: digital technology and filmmaking were evolving, something she needed to learn more about. Her technology skills were weak, and Paige wanted to learn more about interactive video and new production processes. In 2013, at the age of 51, she became a graduate student and pursued a master's degree in media arts at New Mexico Highlands University in Las Vegas. She did well in graduate school, and was on track in completing her program, ready to graduate in the Spring of 2015. She was already working on new film projects and had completed a couple of projects for the Tempe Museum of History.
And there's that word, "History" again. I associate it with Paige too. I worked with Paige on some research and writing projects over the years. When she came to Tempe to visit her family, we'd meet at the Chicano/a Research Collection and Archives at ASU, Hayden Library, to talk about her work, her grants, about how difficult it was to raise funds to produce films, and why all of this was so important to her. She wanted to tell stories on the film of the struggles of working people, of the Mexicanos of Tempe and Phoenix. "The Mexicanos of Tempe who encountered racism and discrimination," she often said. She wanted to add more content to her documentary on Chapito Chavarria. Paige had that drive to want to do more, to do it better than the last time, to create and tell a good story. In 2012, Paige donated her personal archives to the Chicano/a Research Collection and Archives, Department of Archives, and Special Collections at the Hayden Library. Her audiotapes, video cassettes, research notes, storyline drafts, original documentaries she produced since 1986, photographs, films: they're all there. There is much about the history of Tempe, the Mexicanos of Tempe in its early history…..
The Paige Martinez Collection contains rich materials for the film student, the journalism student, the Liberal Arts student, the student in us all. Paige's own story of struggle and courage and film making and living a full life is worth learning about. I tell you about Paige Martinez and her passing so that you can understand your own importance in whatever work you do, in whatever career you pursue or have pursued because you probably are like Paige too: always learning something new about yourself, and ready for a new challenge to become a better person, a better friend or a parent or a colleague. And a better friend to yourself, too. I've attached a couple of photos to my narrative of Paige Martinez, one of which is of her with Chapito Chavarria. The photographer is Jorge Quintero. The photos were included in the article Paige wrote for the September 2013 issue of Latino Perspectives Magazine, titled "Chapito Chavarria: Bygone Elegance Recaptured." I also cite additional sources I used for this narrative: "Untold New Mexico: Stories from a Hidden Past." By Jason Silverman. (Santa Fe: Sandstone Press, 2006); "Chapito Chavarria, Harmony Man." By Paige Martinez. A documentary. 2013; "Adiós a una gran mujer, Paige Martínez siempre en nuestro corazón." By María Teresa Bonilla. IN: Panorama Online News Site. December 10, 2014; "RIP Paige Martinez." By Paul Stekler. Austin Chronicle. December 2, 2014; "Chapito Chavarria's 100th Birthday Celebration at the MIM." By Patricia Myers. IN: All About Jazz. An online magazine. December 2014; "Coming of Age." By Morgan Lee. Albuquerque Journal. April 6, 2001. And there is a photo of Charles Trumbull Hayden, among the so-called "founders" of Tempe, standing outside his Tempe Home, known as The Hayden House, aka "La Casa Vieja. Paige's work on her documentary on Chapito Chavarria was in its final stages of completion, with a bit more editing and translation to be done.