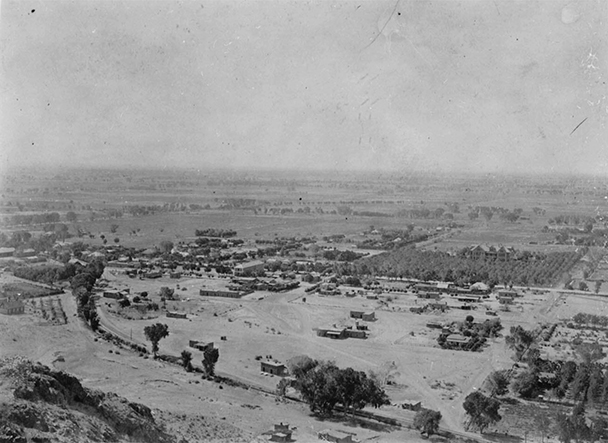 A view of San Pablo from Tempe Butte looking to the southeast. In this c1900 photograph Old Main appears at the right center.
Courtesy of Tempe History Museum.
San Pablo
Writer: Jay Mark
Knowing Tempe's founding is virtual required reading for anyone who lives here.
Charles Trumble Hayden (Don Carlos) establishes a ferry service at the base of Tempe Butte in 1871 ultimately creating a dynasty that included a flour mill, land investments, freighting, commercial businesses and a son Carl who became at the time the longest-serving Senator is U.S. history.
And that Englishman, "Lord" Darrell Duppa is credited with naming the new community "Tempe" for the Butte's resemblance to the Vale of Tempe in Greece.
Now legendary, these stories are all essentially true.
But there is more to Tempe's formative period than most appreciate. For example San Pablo and the Hispanic influence.
Even before Charles Hayden surveyed the nearby countryside from atop Tempe Butte, Hispanics had been settling and farming in the area. The 1880 U.S. Census reported that 85% of the small community was Hispanic.
When William Hudson Kirkland and James McKinney began in 1870 digging the first irrigation canal to supply water to the land south of the Salt River, Hispanics, seeing an opportunity, moved in to help with the construction.
Influential Anglos like Hayden and Kirkland were known for their largesse's like employing and often generously supporting both the Hispanic and Indigenous and populations.
But with frenzied growth and activity relations between Anglos and Hispanics were often strained.
According to Larry Dean Simkins who researched the development of the Southeast Valley for a doctoral thesis in 1989: "The beginnings of Hayden's empire disturbed part of the early Hispanic settlement. Some Hispanics had been in the area for a long time, and they found the new developments difficult to integrate into their culture."
Sensitive to their concerns, Kirkland was instrumental in helping the Mexican contingent create their own community.
In exchange for labor constructing his canal, Kirkland donated eighty acres just south of Tempe Butte. Present day College Avenue marks the center-line of San Pablo ─ University Drive, the southern boundary.
The only stipulation that Kirkland put on his gift was the income from the sale of lots must be used to erect a Catholic Church. Our Lady of Mount Carmel was dedicated in 1873 becoming Tempe's first public building.
Unlike the Anglo part of Tempe that was platted on a grid, San Pablo which had been variously called East Tempe, Mexican Town, Chihuahua and Sonora Town was described in 1883 as "…a lot of scattered adobe buildings without symmetry or comeliness."
Another portrayed San Pablo as an impoverished place with "…a keen pungent odor of damp earth, garlic, onion, chili, wood-smoke and faint overtones of human droppings."
Along with homes and the Catholic Church, San Pablo also had the Perez Saloon and stores operated by "Old Jim" Murphy, Harry Bernard and Ben Goldman.
Further distinguishing the two cultures, most homes and buildings in the Anglo areas were frame or brick construction while San Pablo structures were adobe, a material much better suited to cooling during the intense summer heat.
Although contributing materially to the development of Tempe, Hispanics were frequent victims of discrimination and stereotyping that lasted into the 1950's.
By the mid-20th century San Pablo had been entirely absorbed into burgeoning Tempe.
Scattered San Pablo structures lasted until ASU began expanding north of University Drive in the Fifties.
Recent archeology along the Light Rail line and site of the Transit Center has unearthed new information about San Pablo ─ stories that will be told in the coming months.
Today regrettably nothing remains of San Pablo ─ only the faint memory of a nearly forgotten but important part of Tempe's Past.
If you remember San Pablo why not share your stories at tempe@arizonarepublic.com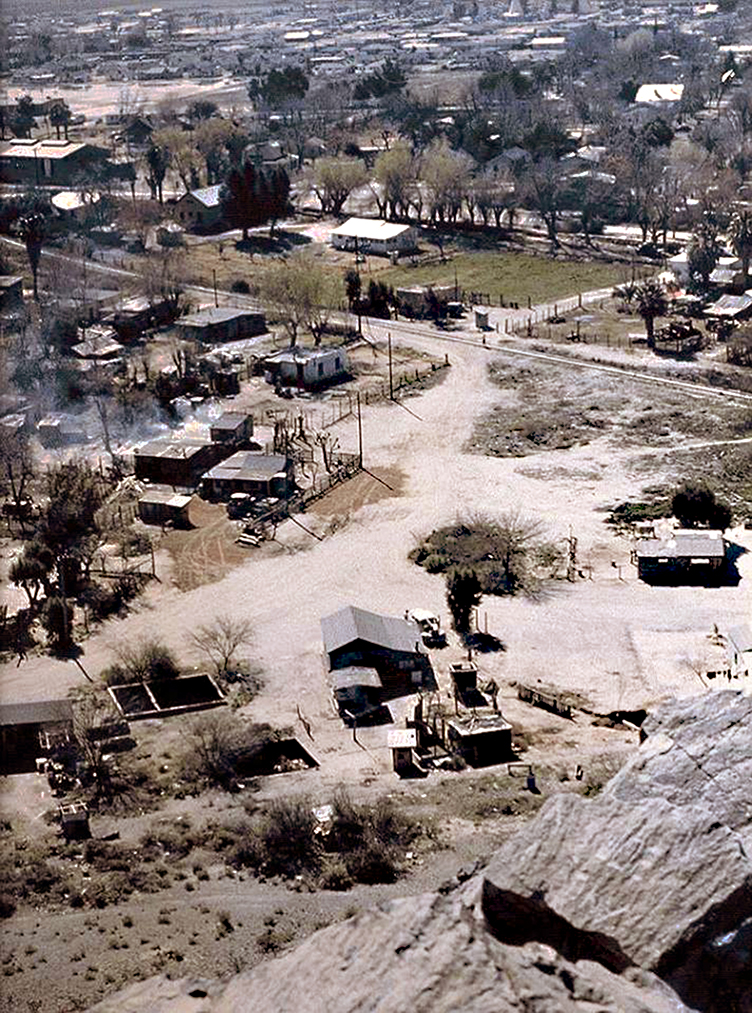 San Pablo as it appeared from Tempe Butte in this circa 1950 photo taken by Art Clark.
Courtesy of Tempe History Museum.