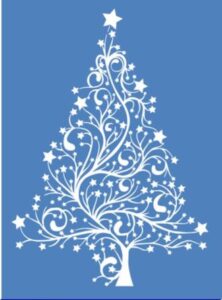 Larry Campbell 21st Annual Tree of Lights
The Larry Campbell Tree of Lights is an annual fundraiser that offers individuals a special way to pay tribute to someone with an ornament during the holiday season.
Our fundraiser is named in honor of Larry Campbell, a past president of the Tempe Historical Society, who began this Tempe tradition in 2001.  Two trees in the Tempe History Museum Lobby are decorated with the ornaments:  one for veterans and one for other honorees.
Proceeds and donations assist the Tempe History Society in preserving and sharing Tempe's history and heritage.
* * * * *
This year there are two styles of ornaments to choose from – pictured are the choices of stuffed felt ornaments: Santa with a red hat and Santa with a stars and stripes red, white and blue hat. These festive ornaments are available for a donation of $10 per honoree.
In addition to the regular ornaments shown, you have the opportunity to select a customized ornament for your honoree.  The Veterans ornament, made of ceramic, features a bald eagle holding the American flag.  The other option is made of metal and features one of Tempe's more prominent historic homes, the (Neils) Petersen House. It comes with its own gift box.  Either ornament is available for $20 donation per ornament.
Each ornament includes a tag with the honoree's name and is placed on the trees at Tempe History Museum during the holiday season. The honoree, or a family member, will be send a notice and invited to the museum to view the trees if their contact information is provided.
To order, complete the Tree of Lights order form and drop off or send with a check to Tempe History Society, 809 E Southern Avenue, Tempe, AZ 85282.
If you prefer to pay by credit card and email the form. Go to Tempe History Society's PayPal account and submit payment; add a note "TOL2022 (Your Name)" and email the form or honoree information to us.
Forms are also available at the museum and at Petersen House Museum during the Christmas at Petersen House weekends in December.
The Tree of Lights honored the following individuals in 2021.