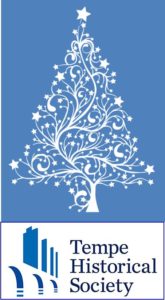 Events in 2020 are being celebrated in a variety of creative and innovative ways. The 19th Annual Tree of Lights celebration is no exception. With the need for social distancing, Tree of Lights will be mindful of everyone's safety and reflects our concern for you and your families.
This year, we invite you to send us your photos and /  or stories about your Tempe Holiday memories. With your permission, we will post them on this website and on the Society's Facebook page. Some may also be used in our newsletters.  To submit phots or stories, email info@tempehistory.org. If you need an alternate way of providing them to us, please let us know by email or through the Contact Us page on this website.
Thank you for your continued support. We are looking forward to seeing the photos and stories you will be sending in the coming weeks.
Happy Holidays to you and yours,
Tempe History Society
P.S. If you would like to make a donation in support of our work, you may do so online or send a check to Tempe History Society, 809 E Southern Avenue, Tempe, AZ 85282.
Donate On-line by following this link and selecting the donate button. Please note that you may leave a message by clicking on the "message to THS."  Thank you for your consideration!