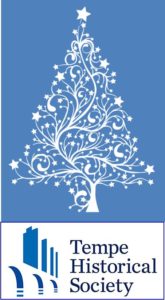 Larry Campbell 20th Annual Tree of Lights
The Larry Campbell Tree of Lights is an annual fundraiser that offers individuals a special way to pay tribute to someone with an ornament during the holiday season.
Our fundraiser is named in honor of Larry Campbell, a past president of the Tempe Historical Society, who began this Tempe tradition in 2001.  Two trees in the Tempe History Museum Lobby are decorated with the ornaments:  one for veterans and one for other honorees.
Proceeds and donations assist the Tempe History Society in preserving and sharing Tempe's history and heritage.
* * * * *
The Tree of Lights honored the following individuals in 2021.