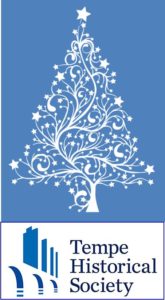 Larry Campbell 20th Annual Tree of Lights
The Larry Campbell Tree of Lights is an annual fundraiser that offers individuals a special way to pay tribute to someone with an ornament during the holiday season.
Our fundraiser is named in honor of Larry Campbell, a past president of the Tempe Historical Society, who began this Tempe tradition in 2001.  Two trees in the Tempe History Museum Lobby will be decorated with the ornaments:  one for veterans and one for other honorees.
The Society partners with Friendship Village for this special Holiday program.
Proceeds and donations received continue to assist the Tempe History Society in its support of the Tempe History Museum's wide variety of wonderful activities, programs and events.
This year we are asking you to pick up your ornaments at the Tempe History Museum on December 19, 2021.
A donation for each Tree of Lights ornament is $10.  Forms are available at the Tempe History Museum or click here for a fillable form. 
You may also pay online and email the form to info@tempehistory.org or send to the address below.
* * * * *
Ornaments shall be available on Sunday, December 19, 2021 from 2 – 4 p.m. at:
Tempe History Museum
809 East Southern Avenue
Tempe, AZ  85282